Burst Pipes
Burst pipes can wreak havoc on your property. Quick response is paramount to decreasing the amount of water damage sustained. Jimmi The Plumber has worked with home owners and business owners throughout the area to contain the damage and quickly resolve the problem
---
Burst Pipe?
Call (847) 584-3493
---
Rapid Burst Pipe Service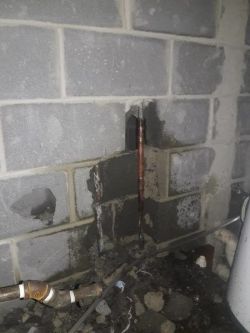 If you have experienced a burst pipe in your home or place of business, call the experts at Jimmi The Plumber today. We have been repairing burst pipes in the area since 1989 and are well-equipped to remedy yours as well. When you call (847) 584-3493 for a free quote to fix your burst pipe, we'll find a convenient time to arrive to your property and provide a quick quote. The expression "Time is money" has never been more relevant. The longer it takes to stop the leaking water, the greater the damages. Call Jimmi The Plumber ASAP to fix your burst pipes!
Jimmi The Plumber's Burst Frozen Pipe Solution
First and foremost, time is critical. You need a company that will arrive to the scene promptly and contain the problem. If you have had a pipe burst, first turn off your water supply, then call (847) 584-3493 for a speedy assessment and quote. We'll determine the cause and the extent of the damage and quickly stop any water from leaking from the pipes. Next, we'll thaw all pipes and check for damages. Any repairs or replacements will be made. Last, we'll be sure to make suggestions on how to best insulate your piping to avoid pipes freezing in the future.
Aging, Corroded Pipe Replacement
Pipes can also burst from blockages caused over time. Contaminants cling to the insides of pipes, narrowing them and eventually clogging them completely. When pipes become clogged, the pressure inside builds, until eventually they burst, spewing water in your floor boards, your walls, and other damaging areas. If you've experienced a burst pipe, first turn off all water. Then call Jimmi The Plumber at (847) 584-3493 for fast action to remedy the situation. We'll determine the source of the problem, and identify other pipes that may be compromised. Portions of the pipe will be replaced as needed.